On the same day...after tea-ing and shopping at Pavilion, we then went to Kota Damansara to have our dinner.... in fact this was our initial plan.

Guan Di, a Cantonese Cuisine newly opened in Kota Damansara serving prestigious high-end Cantonese cuisine. Their choices of cuisines are brilliant in a way that it's very innovative where you hardly found one in town currently. In other words...they are unique

The decoration of the restaurant is quite simple, nothing really glorified....but bet that you gonna love it when your dishes are served on the table.

They have something ready for you to eat (ala welcoming tit-bits)




Don't under estimate these so called candies(by me). If you love yam or you are a crazy fans of sweet potatoes...you're not going to miss it...It's so soft inside...still tasting original...

Then...we ordered four dishes to serve with rice....

The first dish...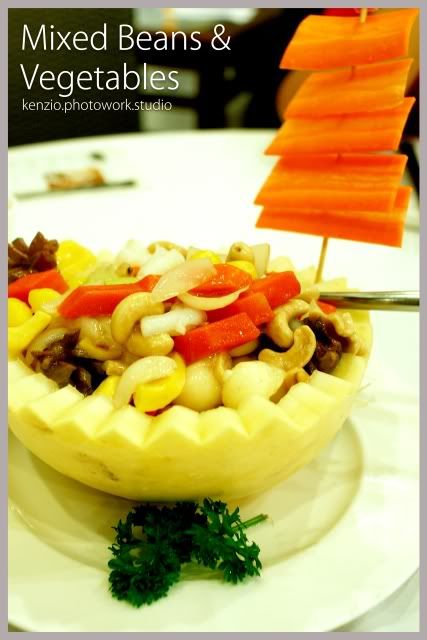 It's very clear in taste...very healthy feel and they name it "Yat Fan Fung Soon" in Cantonese, wishes of smoothness in whatever you do...so you can see the decor of a yacht.

Next....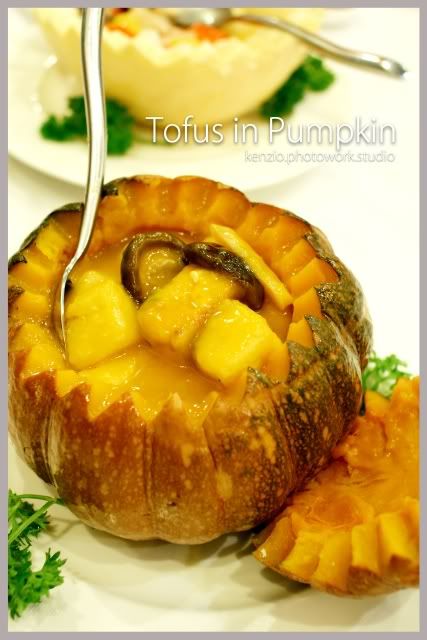 Tofu with pumpkin's sauce served with the whole pumpkin...also sided together with mushroom as well...The taste is definitely acceptable...except you don't favor in pumpkin.

Then.....




It has a Cantonese naming "Mong Zhi Xing Loong", which means hoping the child to grow successfully(hopefully didn't translate wrongly)...

At first sight, we thought that it was an eel/Unagi with the usual Unagi sauce....the taste was pleasant....it's a mouth opening dishes and it's best serve with rice...(can't recall the actual taste though as it was quite some time already)

The last dish is a must not miss....is a must order...is a must eat item...




It was grilled till the shells are crispy...and yet...the flesh of the prawn still remains juicy as it was....actually...not only the body shells, but also the whole head where you can crunch it in your mouth and nothing is left....

At this point...we're super full and satisfied with the food...but still..my sister loves to order dessert for all....




I don't how this was called...but who cares...just eat lar....LoL!!!

With the satisfaction we had...we paid the price...and it's not cheap....it hits RM200 but I have no exact amount. If you feel that you wanna give it a punch..a kicking...here's the info...

Guan Di Cantonese Cuisine
No.19, Jalan PJU 5/12
Dataran Sunway
Kota Damansara, 47810
PJ, Selangor.
Contact: 603-61407755
www.guandi.com.my