Thank you for visiting and here...I proudly present to you....the new release of my blog layout is finally here...with new design and couples of new features for you to explore and ease you in the near future. As the title said it's a beta release...which means...it'll still under some modifications and enhancements till the final release is announce and meanwhile...you can enjoy for a while and any comments and critics are very much appreciated.

First feature to introduce is Home Tab.





Whenever you're in a single/dedicated post page and wanna back to the main page, this is the button that you need most.

The next will be the search tab for you to search with any related keywords among all my posts.




Just key in the input box provided and hit enter, try and see!

Categories and Tag Cloud!




Now you can view by a particular post tagged!




This Technorati Tag Cloud shows you which category is the hottest among all with the one bold and large font. (This is still under modification)

Archive!




I've put it into a list box to save up some space to cater for future growth of archive.

Twitter Updates!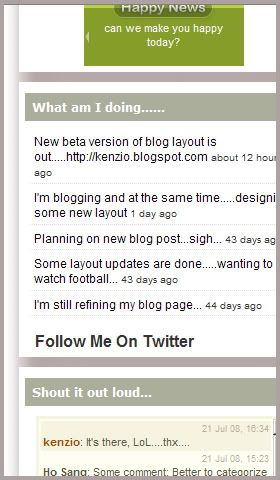 It's a system that shows what am I currently doing and you may follow my movement by click on the "Follow Me On Twitter".

The last but not least....Happy-O-Meter!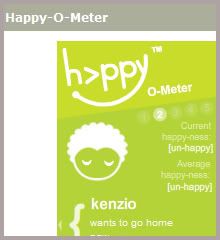 Tells you what's my current mood and what am I doing currently.

And yes....not forgetting to introduce my latest blog header.....really hope you like it!





So...this is it...all the new features in my entirely new blog layout. What do you think? Do you like it?