Last Saturday, I was in The Gardens, MVC again....yes again....after 5 days a week in MVC still not enough...doesn't feel bored at all....(you believe or not?). I was with my family and by the time we reach there....it's time for lunch. So we're deciding to lunch at Fong Lye, the Taiwanese food, but when we reached there, it's full house and the queue was quite long, long enough for us to make a change and wanted to go to Sushi Zanmai. Who knows...it's Saturday right....it's full house as well. Thinking of where to go, hmmm...Flying Chillies, just been there 2 weeks ago...ermmm....ahhhaaa....lets try some Korean food.

At first....the Korean Restaurant looks very suspicious to me, because...there's no one in it. And yes...the Korean restaurant is GoGung, Fusion Restaurant. I really had no idea what this fusion means in the first place until I flip over the menu, then only I understand, why it's call fusion...why there's no one in here.....it's damn fusion expensive lor!!! How expensive? You wouldn't want to know it.

However...since we're there....and we're quite hungry.....so my sister made the call...she pointed here and there in the menu showing it to the waiter....ni ni ne ne...and it's done...and we shall wait for our food to be served.

Mean while waiting food....I took this....




and not long enough we've waited....here's the first dish served....




it was served together with others assorted vegetables...




and all of these are refill-able!

You must have a look at this....




The Kim Chi looks un-intacted....very neatly presented and the taste...just nice...not that salty which I don't like it in others place.

Next served....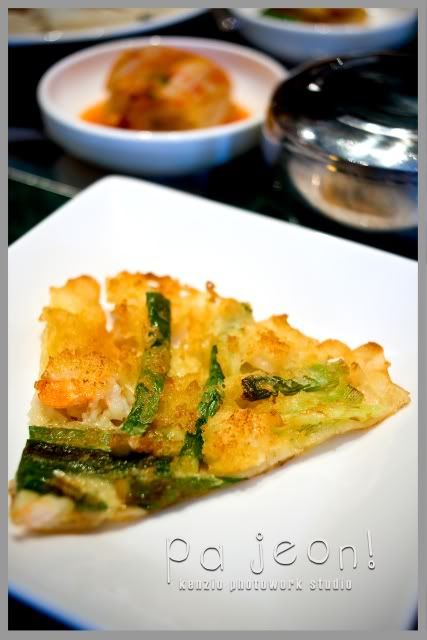 The famous pancake of Korea...the taste was like...WoW!!! nice wor....(again I'm comparing with those cheaper version of Korean food)

Here's any type of Kim Chi served with chicken meat....




The chicken meat is not the main serving point though. The Kim Chi putting on top of the tofu...really taste nice ar...I like this!

How come fusion restaurant serving fusion steam rice also taste so good geh??!




I didn't finished it though...as it's alot and I'm super full after hours sitting there and eat eat eat...

Overall, I'm satisfied with the food there, and I do agree that they really serve fusion food. It's only that we don't eat beef, otherwise it'll be more fusion with the extreme fusion price tag...kekeke! The total damages for the lunch was

RM 201

excluding tax.

Next...we're back on our track...our real mission of the day....stay with me for the next post on what's our mission...okay?