On last Wednesday, my colleague from MCS team wanted to celebrate an early birthday for our boss, and we went for a birthday lunch at Amuleto, a western restaurant by Jade Crystal located at Mid Valley Megamall, next to Maybank. It's a restaurant almost similar like Chillies. The only difference could be the crowd. There's not much people dining in there if compare to Chillies. But we still hantam... give it a try....The environment was not bad, quite comfy. The service...okay lar...

Then we ordered our own food and beverages. I didn't bring my dslr with me on that day...lucky got this camera phone, Sony Ericsson W800i which still produce some decent photos.

The beverage that I ordered on that day.....




yes...it's green apple juice...it's my favourite!

and I was thinking to have pasta on that day...and to speak the truth...I'm actually a fan of pastas...wahahaha!!! So I ordered this which I haven't try before this...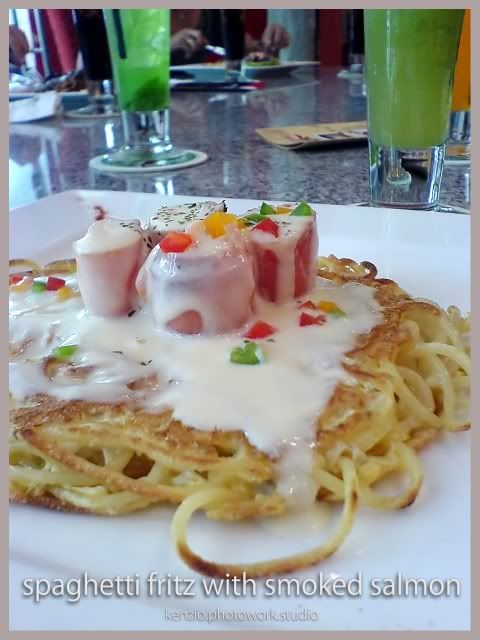 The outer part of the spaghetti was crispy...but not oily at all....Inside of the spaghetti, there's mashed egg in it...hence even if you found that the portion looks small...don't ever underestimated it....it can be quite filling though. The cheese topping was just nice...with 4 rolls of smoked salmon...and it taste really fantastic...I rated it 4/5. This meal cost RM19 excluding taxes and I think the price tag is quite standard in any where served.