Okay...long time didn't post anything...where should I start after the head-off from the previous post....Hmmm....alright...it all started here....
Last week...around Tuesday...I received a text message in Facebook regarding an invitation to a surprise birthday party. Venue and time were yet to be confirmed. Then I suggested to have it at Bubba Gump, The Curve. But due to some reservation error, I still doubt that we left no choice but to fall back to the other so called alternatives, The Apartment. Why it's so? First hand I got to know about this Apartment gonna be one of the choice, I quickly Google around to know more about it. Aha! It's here...ermm...reading here and there on a couples of blog....OMG! The reviews...the comments weren't that good nor satisfied. Some even mentioned very "disappointed". But there's also some plus side for it, which is the unique deco which contained the homey feeling. For instance saying, today, you don't feel like having your meal in the dining area, lets switch it to the bathroom? reading room?...so...it's all about the fancy deco they have. On the hand...the most important was about the food and services(these really matter me most). I'll tell more when I'm in the main stream and lets not drag too far.

So...here comes Friday, and I was there quite early....in fact the earliest. And before anyone could make it there on time due to traffic jam along LDP, I went to join another early group having their dinner at the Bubba Gump. Since I was there...I also help out to eat a bit. And when the time comes...here we are...




There's a special corner place which was occupied by 15 of us and I guess...this was the private space mentioned earlier...and frankly speaking....I don't find the deco really interesting at all...because...I don't like the lighting...too dim..not enough ambient which leads to fail the comfortable environment...Okay...anyway I'm still fine with it....lets kick it...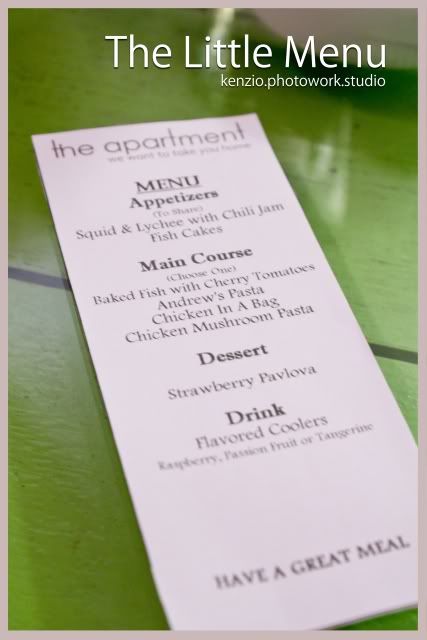 This was the small list of dinner menu which I think it's a pre-ordered meal with little options. Though with little options...still have to order right....




This was the drink I ordered...considered okay...nothing really makes me WoW!

Since I'm not taking the main course (as I'd mentioned earlier...I had something at the Bubba Gump) I wanted to try something light...and salad comes into my mind...so...lets pick one off the little menu...




As the captioned told...it's really lousy....the first taste...ermmm...it's still okay...I'm okay with those greenies...until I ate the avocado....OMG...YIAKKKSSS!!! what's that...it's tasteless...and actually it's very dry...too dry for its type...doesn't has a unique taste at all.....this was the first and my last time tasting such odd salad.

But surprisingly....a friend sitting next to me...instead they are actually couple...told me that it's okay...there's nothing wrong with the salad...he also asked whether am I not used to it? OMG...come on man...I eat almost anything...but not this...and he keep on saying...I'm not use to the salad...and it tasted okay...and so does the girlfriend does agreed with him....o_O Okay...it could be just me...my problem...so...serving next...another appetizer...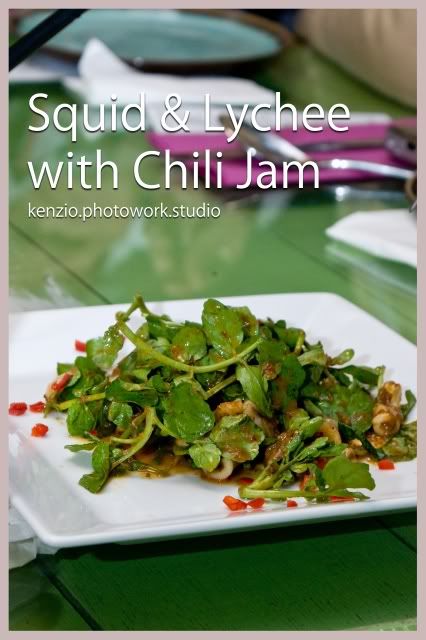 I don't think I want to eat it...but the first comment I heard from Whalen and Debbie..."ehh..tasteless wor!!" Then the guy sit next to me again...replied..."no ar!! Got taste...who said no taste"....very automatic...I just pick up my chopstick and try it...hmmm....okay...there's taste....but what taste...and what's that I just ate...again...frankly speaking...the taste base on my first attempt was purely sour plum juice...typical type...those normally we tasted on the Lou Sang during CNY at any restaurant. Then when I came to know that...it's chili jam instead....my reaction was like...shit...no way man...there's nothing near to chili jam...come on...where's the chef graduate from...??? Then again...the guy sit next to me mentioned that...it's lychee lar...how can you not taste it...errr....really...I can't taste it...

And do you think this was fusion enough to be named as fusion food?

(someone mentioned it's fusion food...hence a question mark in my head and now it's being blog it here...you can poll if you want to)



Actually they served fish cakes as appetizer as well...but I didn't took any photo of it....

Then here comes the main course....there were three all together...but I didn't taste any....




To me..the pasta looks dry...even wantan mee needs more sauce...all didn't attract me a single bit.

So...here was the final item to be served...the dessert...




At first...I thought that I can eat it with either spoon or folk...but I don't think it really works that way...so I wanted to try with my hand...the first touch was sticky...oh no...it's sugar...topped with mousse and can peach and strawberry...the result was sweeeeet....too sweet to my likeness....it's a nono to me...

So...that's concluded the meal of the night, and I'm very sure that I won't be going back there again...cause I'm rating it 0/10...bad chefs who don't even understand their customer...

Okay next...will go into details of the birthday celebration....so...no more food comment can!